The World Heavyweight Championship was a championship defended on the SmackDown! vs RAW 2006 General Manager season. It was one of the top two championships in WWE, contemplating the WWE Championship. It was exclusive to the SmackDown! brand, while the WWE Championship was exclusive to the RAW brand.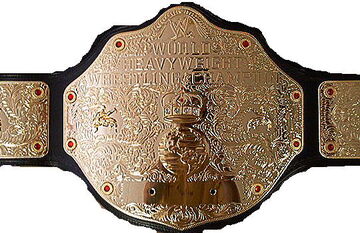 The championship was introduced as part of the SmackDown! brand at the start of the SmackDown! vs RAW 2006 general manager mode, during the draft lottery. A randomizer determined that Davari would be the first World Heavyweight Champion.
Davari defended it against the likes of Carlito until April 26th, when The Rock defeated him for the World title in an Ironman match with Rob Van Dam as the special guest referee.
The Rock held the championship for a few months, defending the title against the likes of Chris Benoit at Judgement Day. The Rock would lose the championship to Andre The Giant at The Great American Bash. Andre would go onto become the longest reigning champion in the history of the league. His list of challengers included The Rock, JBL, Big Show, Randy Orton, Chris Jericho, Rey Mysterio and The Hurricane. His title reign lasted until No Way Out, when the Big Show won a battle royal for the belt. Big Show would defeat Andre at Wrestlemania to end the season as the final champion.
Section heading
Edit
| # | Champion | Reign | Date | Days Held | Event | Notes |
| --- | --- | --- | --- | --- | --- | --- |
| 1 | Davari | 1 | April 1st | 26 days | - | |
| 2 | The Rock | 1 | April 26th | 94 days+ | SmackDown! | This was an ironman match with Rob Van Dam as the special guest referee |
| 3 | Andre The Giant | 1 | July 28th | 1 day+ | The Great American Bash | |
| 4 | Big Show | 1 | | | No Way Out | This was a six man over the top rope battle royal also involving Randy Orton, Stevie Richards, Mankind and JBL. |
Andre The Giant was the longest reigning champion and has defended the title against more wrestlers than any other champion. Andre actually reigned as champion longer than any champion of any other belt during the entire season.
Davari was the shortest reigning champion and has only defended the title successfully against Carlito in a ladder match.
Community content is available under
CC-BY-SA
unless otherwise noted.