No Way Out was a professional wrestling pay-per-view event presented by SmackDown that took place in the Bobson WWE Universe of the SmackDown! vs RAW 2006 league. It was the first No Way Out PPV.
The show was notable for being the second to last PPV of Year One of the league with Wrestlemania following up. This was also the final brand-exclusive PPV and the last one promoted by SmackDown!
The main event bout was a six man over the top rope battle royal for the World Heavyweight Championship with Big Show defeating Randy Orton, Stevie Richards, Mankind, JBL and the World Heayvweight Champion Andre The Giant to win the title.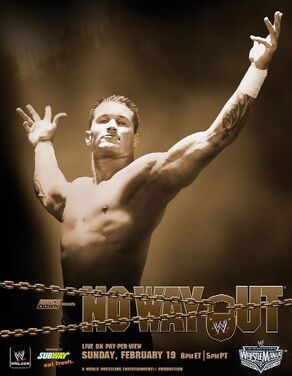 Background
Edit
Andre The Giant won the World Heavyweight Championship at the Great American Bash by defeating The Rock. Andre had managed to hold onto the belt for months, beating the likes of Randy Orton, JBL and Big Show along the way. Andre was successful in retaining the championship at the Royal Rumble when he defeated the Big Show. Vince McMahon declared that SmackDown! must hold a six man battle royal at No Way Out and it was decided that the World Heavyweight Championship would be on the line.
Big Show and JBL were both given another opportunity at the title. Mankind had beaten Andre on SmackDown! so he was given a spot. Randy Orton was given another opportunity and due to his rivalry with Stevie Richards, Richards was given an opportunity. 
| # | Match | Stipulation |
| --- | --- | --- |
| 1 | Rob Conway def. Mark Jindrak | Hardcore Match |
| 2 | Tajiri (c) def. Christian | Submission Match For The Cruiserweight Championship |
| 3 | Rey Mysterio def. Davari | Ladder Match |
| 4 | Big Show def. Andre The Giant (c), Randy Orton, Mankind, JBL and Stevie Richards | Six Man Over The Top Battle Royal For The World Heavyweight Championship |
Six Man Over The Top Rope Battle Royal
Edit
| Elimination | Wrestler | Eliminated By |
| --- | --- | --- |
| 1 | Stevie Richards | Big Show and Andre The Giant |
| 2 | JBL | Andre The Giant and Randy Orton |
| 3 | Mankind | Andre The Giant |
| 4 | Andre The Giant | Big Show and Randy Orton |
| 5 | Randy Orton | Big Show |
| - | Big Show | WINNER |
Eliminations: Big Show and Andre eliminates Stevie, Andre and Orton eliminates JBL, Andre eliminates Mankind, Orton and Big Show eliminates Andre, Big Show eliminates Orton
Community content is available under
CC-BY-SA
unless otherwise noted.