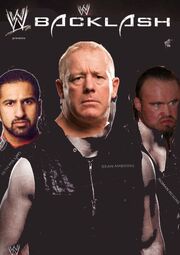 Backlash was a professional wrestling pay-per-view event that took place in the Bobson WWE Universe of the SmackDown! vs RAW 2007 league. It was the second Backlash PPV.
The show was notable for being the first PPV of Year Two of the league and the PPV to follow Wrestlemania I.
The main event bout was the first ever tag team Hell In A Cell match for the WWE Tag Team Championship, in which "Maggle Heat" JBL and Booker T defended against The Shield members Sniskty and Davari. The co-main event was the World Heavyweight Championship match which saw the champion Bobby Lashley defend against Hulk Hogan.
This match also featured a 30 minute Ironman match between Steve Austin and Gregory Helms for both the Intercontinental and Hardcore titles, as well as two King Of The Ring Quarter Final matches.
Background
Edit
Write the first section of your page here.
| # | Match | Stipulation |
| --- | --- | --- |
| 1 | Finlay def. Rob Van Dam | King Of The Ring Quarter Final Match |
| 2 | Mickie James (c) def. Melina | No Disqualification Match For The Womens Championship |
| 3 | Chris Benoit (c) vs Psicosis | Ladder Match For The Million Dollar Championship |
| 4 | Triple H def. Randy Orton | King Of The Ring Quarter Final Match |
| 5 | Gregory Helms (c) drew Steve Austin (c) | 30 Minute Ironman Match For The Intercontinental and Hardcore Championship |
| 6 | Jim Neidhart def. Mr Kennedy and The Great Khali | Triple Threat Number One Contendership Match For The World Championship |
| 7 | Hulk Hogan def. Bobby Lashley (c) | Singles Match For The World Championship |
| 8 | Sniskty and Davari def. "Maggle Heat" JBL (c) and Booker T (c) | Tag Team Hell In A Cell Match For The Tag Team Championship |